Here is a collection of people and things I stand for. Every site seems to have these so I thought I'd start my own section, to show how cool I am. haha...right.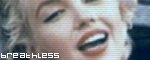 At the time being, *God Bless the Beatles* does not sponsor any cliques of our own, but we do have some *quizzes* for you to take. Please Please Please take our quizzies and you can post your results on your livejournal, blog, web-site, or wherever! Here are the original quizzes available:
The PUG Quiz - Whose Your *Inner* Mink?
Which Norah Jones's Song Are You?